Well this looks like fun! I was visiting some of the girl's I met at the Nester's slipcover party and over at
Carrie's blog
she is playing along with Five Question Friday from Mama M at
My Little Life
so I decided to try it.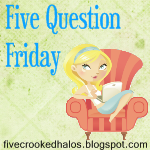 1. Do you have an iPhone and, if so, how do you get apps and what are your favorites?
Yes! I get my apps from the App Store and my current favorite is the Chipotle app. I used it today and it's as close to drive through as you can get with Chipotle. I ordered and paid on my iPhone as I was leaving Moms Connection, drove to Chipotle, walked straight to the cash register and grabbed my lunch!
2. What is your fondest memory of K-3rd grade?
When I was in kindergarten we still took naps and sang nursery rhymes and I loved it! Now I think kids are expected to read and write by the time they start school.
3. What makes you cringe at the thought of touching?
Raw meat. I love meat, but prepping and cooking it makes me shutter (I even wear disposable gloves!)
4. If you could have any celebrity show up on your doorstep who would it be and why?
I think Kevin and DeLana Harvick would be so fun! I follow them on Twitter and they always make me laugh.
5. What would you say is your best physical feature?
Probably my eyes. Many people comment on my green eyes.