I try my best to avoid getting sucked in by the siren that is
Pinterest
. There are so many lovely, handy and interesting pins. A girl could get lost for days!
Here are a few of my favorites I've been using this summer.
Wild and crazy


This will keep your salads, quesadillas, eggs, and such.very happy. Mine sit next to the sink, not near a window and do fine for weeks. I just change the water every few days. That's it.
After a trim
.
2. Cooking corn on the cob in the oven from
Riches to Rags
Sisters
When my friend
Caroline
pinned this I thought "how is it possible I grew up in Indiana and I don't know this method?!" Well, let me tell you it's the only way I cook corn now. Throw it in the oven with the husks still on at 350 for 30 minutes. The husks slide right off and the corn is juicy and delicious. Done.
3. Cook a whole chicken in the slow cooker from
good (CHEAP) eats
Throwing the whole bird in the Crock Pot means I hardly have to touch or think about touching raw chicken. This makes me happier than it should. And the chicken comes out perfectly. No more dry chicken, ever. (Or wire hangers. Name that movie.)
Have you found any winning ideas on Pinterest lately?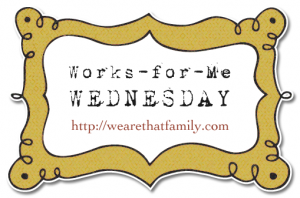 .